Our
Parish Priest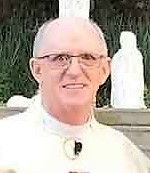 Fr. Justin's ancestors arrived in South Africa in 1850 and settled in Pietermaritzburg and Underberg. He was born on 28 August 1955 in Durban.

After a long process of discernment at school, university and in commerce, he entered St Paul's seminary for diocesan priests in Hammanskraal in 1990. He studied at the Grand Seminaire in Arras, France (1991-1992) and at St John Vianney Seminary in Pretoria (1993-1996). He was ordained as a diocesan priest on 12 July 1997 at St Joseph's church in Florida Road, Durban.

He was assistant priest at St Peter's in Montebello (rural) for seven months, parish priest at St Theodore's in Greytown (rural, urban and township) for four years, at St Peter's in Montebello for two years and at Immaculate Conception in Pinetown for twelve years. He was appointed as parish priest of Our Lady of Fatima on 1 February 2016.
Our Priests through the Years
Over the years, we have been blessed to have been served by the following parish priests:
1957 - 1965

Fr. Henry McCabe OMI

1965 - 1969

Fr. Raymond Coates OMI

1970 - 1980

Fr. Tom Slattery OMI

1980 - 1983

Fr. Eldred Leslie

1983 - 1989

Fr. Stan Telfer

1989 - 2015

Fr. Desmond Nair

2015

Fr. Desmond Royappen

2016 - Present

Fr. Justin Stirton